Welcome, to our Customer Portal.
If you are one of our existing customers, you can sign up for an account on this site. After we have processed your request, we will assign your portal account to your warehouse account.
You will then be able to:
view your pricing
browse existing order and sales history
place new orders
see current stock levels
request a quote
Purchase your emergency kit today!
No account required, order now and pay online with PayPal! Your order will be express shipped via Canada Post!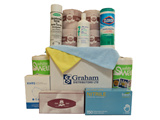 NEW - Kids 3 ply face masks in stock!